First RHIB Deploys at Palmer
Extended Range, Capabilities, and Safety For Science
June 05, 2017
Rigil, the first Rigid Hull Inflatable Boat (RHIB) has safely arrived at Palmer Station, and work has begun to gradually test systems and demonstrate its new capabilities. As covered in recent posts, this new class of craft is compact but extremely capable – packed with safety and operational equipment to support science on the water around Palmer Station. In our video above, we highlight some of the latest photos and footage from Palmer Station, Antarctica.
In Rigil's first few weeks of deployment, it has accumulated roughly 36 hours of runtime, most of which has been focused on testing its mechanical systems and navigational suite. The team's goal is to get as much testing in now so that Rigil is ready to support science when the summer boating season starts later this year.
While system examinations have been the primary focus for its short time at Palmer, Rigil has also supported divers and been fitted with a unique suite of water sampling equipment that is unlocking new opportunities for science in the nearby waters. This water sampling equipment, known as a rosette, along with Rigil's research winch, opens up water column sampling fivefold beyond current depth limitations. This tool allows researchers to preprogram different depths to sample so that numerous samples are taken at various depths during one cast. These samples can then be analyzed for salinity, temperature, biology, and more. This method is much more efficient and precise than older methods of taking samples one-by-one via winch line.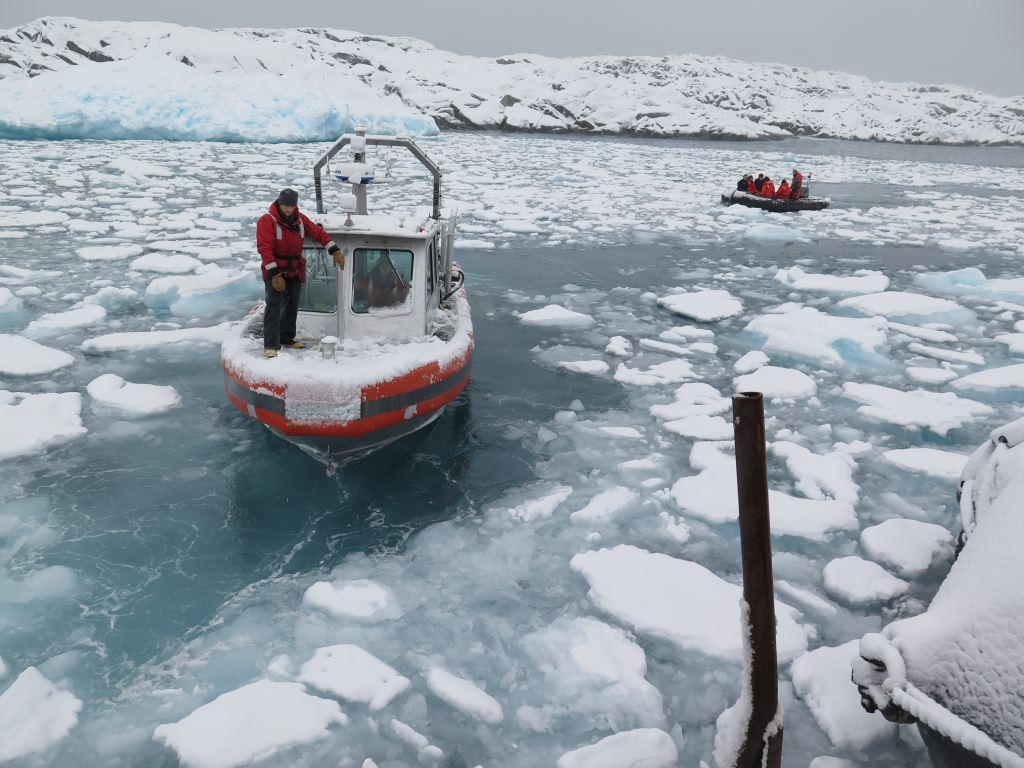 The science and support community will also benefit from Rigil's extended range, capabilities for overboarding, and safety. Rigil marks a significant advancement as compared to Zodiacs that have been in use, which were largely retrofitted as needs evolved. Rigil is the first vessel of its type to be custom built for supporting science-based out of Palmer Station. It was developed based on input from the scientific community and built upon the successes of other agencies and nations who have undertaken similar projects.
Rigil's sister vessel, Hadar, is scheduled for delivery at Palmer Station before next season when it will begin its own round of testing.
The specification sheet for the RHIBs is available on USAP.gov's information page and is also available as a direct download.
For questions about Rigil, RHIBs, or anything else Future USAP related, please contact us for more information.