Update: Rigid Hull Boat (RHIBs) Construction Moving Forward
Major Structural Elements Proceeding Well and On Schedule
April 8, 2016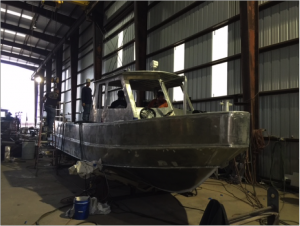 Several weeks ago, we presented the plans to modernize the fleet of small research craft based out of Palmer Station. In the months ahead, the United States Antarctic Program (USAP) will perform sea trails, acceptance and receiving of the first of the two Rigid Hull Inflatable Boats (RHIBs). These RHIBs will provide increased passenger and equipment safety, scientific capability, and boating range.
In today's update we are pleased to announce that construction of the first RHIB is proceeding very well and on schedule. We have been getting updates from the shipyard and recently received some exciting photos showing the completion of major structural elements. In these photos there are four important elements:
The structural supports around the entire vessel and thick aluminum hull have taken form as well as the transducer well, recessed keel coolers, and over-boarding systems. The hybrid air foam collar has yet to be attached.
The pilothouse is large enough to accommodate multiple crewmembers in a heated environment. Additionally, the house allows for a full suite of navigational equipment and space to work with scientific gear.
Each RHIB is much larger than the existing craft, which gives it several advantages and enhancements to better support the scientific missions. The RHIBs will eventually support a 10x increase in the operational range compared to current boats thanks in part to the larger size and ability to handle better in more open ocean waters.
Each RHIB features safer gear handling equipment, such as rated over boarding systems: stern A-frame, side J-frame, and winching systems. These systems will allow for proper deployment of bottom trawls, CTD rosettes, fish traps, net systems and more.
For more information and photos from the latest updates, see below for our latest photos and to download PDFs. If you have any questions about the RHIBs, Palmer Station, or anything else related to Future USAP, please contact us and your question may be the feature of a future blog post.
Additional Photos:
Download Full Reports: