AIMS Construction Project Resumes at McMurdo Station
October 21, 2022
NSF has recently re-baselined the Antarctic Infrastructure Modernization for Science (AIMS) project, now comprised of 2 facilities, enabling construction to proceed at McMurdo Station beginning this season. The Vehicle Equipment Operations Center and the Lodging facility, both delayed for 2 years because of the COVID-19 Pandemic, will soon be re-initiated with site work including demolition of Building 203 and general civil work. Rough grading and foundations placement will also take place, followed later in the season with erection of portions of the steel structure.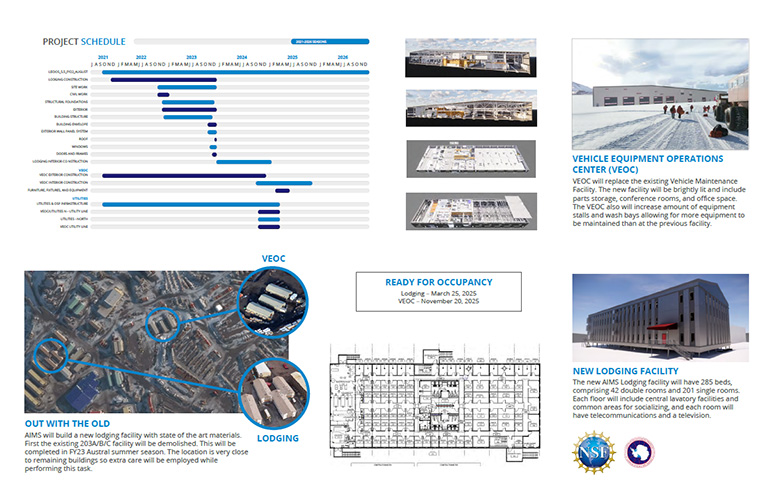 The construction further signals NSF's commitment to continue to modernize its facilities in the Antarctic, which will result in a more energy and operationally efficient station. Along with the IT Communications Primary Addition to Building 4, also already underway, these projects are the first facilities installments to help achieve that goal.
From a practical standpoint, USAP participants on-ice will notice the construction progress through greater movement of construction equipment and materials, intermittent increases in the number of construction workers, temporary re-routing of pedestrian and vehicular routes, and other activities lasting until April 2023, at which time, construction crews will return to their home stations. Behind the scenes construction related activities, including manufacturing and delivery of materials will continue until construction crews return for the 2023-24 Antarctic season.
During the 2023-24 season, progress will continue with the buildings being enclosed, allowing interior building systems to be installed, including throughout the austral winter. When nearing completion, the facilities will be tested, commissioned, and fully furnished before occupancy occurs, which is expected in 2025.
Please continue to visit future.usap.gov for regular updates of the AIMS project, and other activities around the stations and research vessels.
---
View the updated timeline here: