Ross Island Earth Station Construction Complete
New Satellite Telecommunications Terminal is Now Servicing McMurdo Station
March 30, 2022
The U.S. Antarctic Program recently completed construction of Ross Island Earth Station (RIES), a significant milestone in modernizing McMurdo Station's telecommunications infrastructure.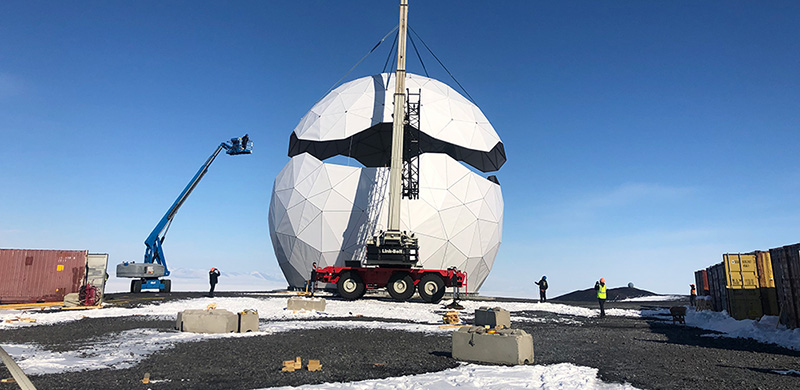 This photo shows the successful placement of the Ross Island Earth Station (RIES) 13.1-meter antenna reflector assembly on its pedestal.
NSF
RIES has replaced Black Island Earth Station as McMurdo's primary satellite communications terminal. Black Island is located about 20 miles from McMurdo, but RIES was built adjacent to the station. This means RIES can reliably draw power from McMurdo's power grid and engineers at McMurdo will be able to service the satellite terminal quickly and easily throughout the year. Black Island Earth Station, which has been in continuous operation since 1995, will serve as a standby satellite terminal for the near future.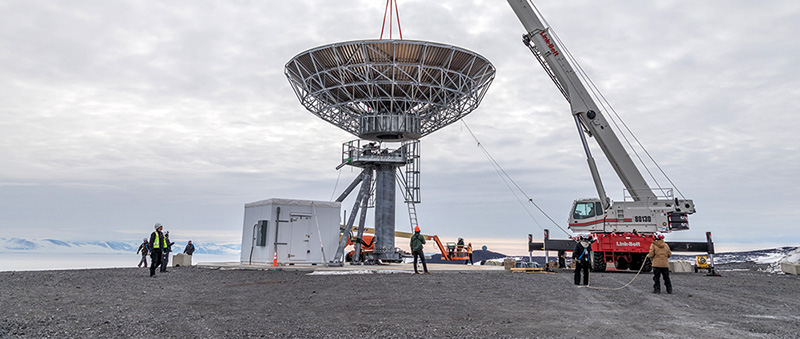 A crane carefully places the 13.1-meter Ross Island Earth Station (RIES) antenna reflector assembly onto its pedestal. RIES is located on Transmitter-Site (T-Site), a hill on the east side of McMurdo Station.
NSF
Construction of the RIES satellite antenna and protective radome was completed in just three months after ten years of planning and preparation. Construction crews assembled the 43-foot-wide satellite antenna in about six weeks. Crews then assembled and placed a 70-foot-wide radome shelter around the dish to protect it from the elements. The radome was assembled in about two weeks and the entire structure, which is as tall as a four-story building, was finished in January.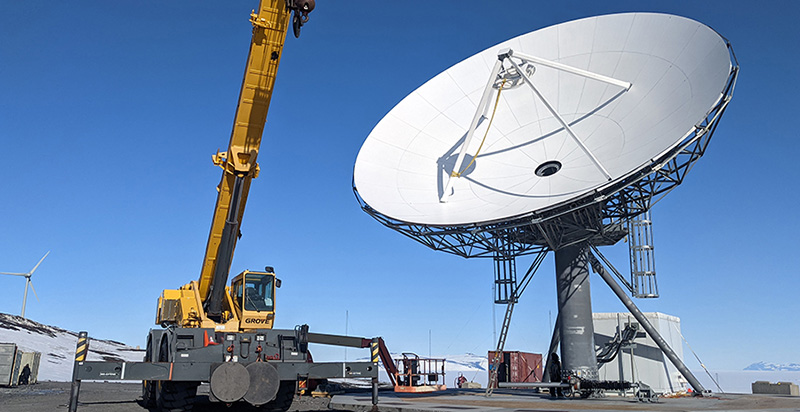 A construction crane lifts the top of the radome shelter in place which will cover the 13.1-meter Ross Island Earth Station (RIES) antenna reflector dish.
Nate Parkinson
After testing the new antenna's functionality, engineers transitioned McMurdo's satellite communications from Black Island to RIES earlier this month. RIES is now fully operational and serving McMurdo Station 24/7.
The RIES project is part of a jointly-funded NSF Office of Polar Programs and NOAA Joint Polar Satellite System collaboration to modernize McMurdo's communications infrastructure. Updates to the RIES project can be found at future.usap.gov. A timelapse video of RIES construction is below.