AIMS Passes Major Milestones
Completion of the Preliminary Design Review (PDR) and Briefs to the Major Research Equipment and Facilities Construction (MREFC) Panel
May 04, 2017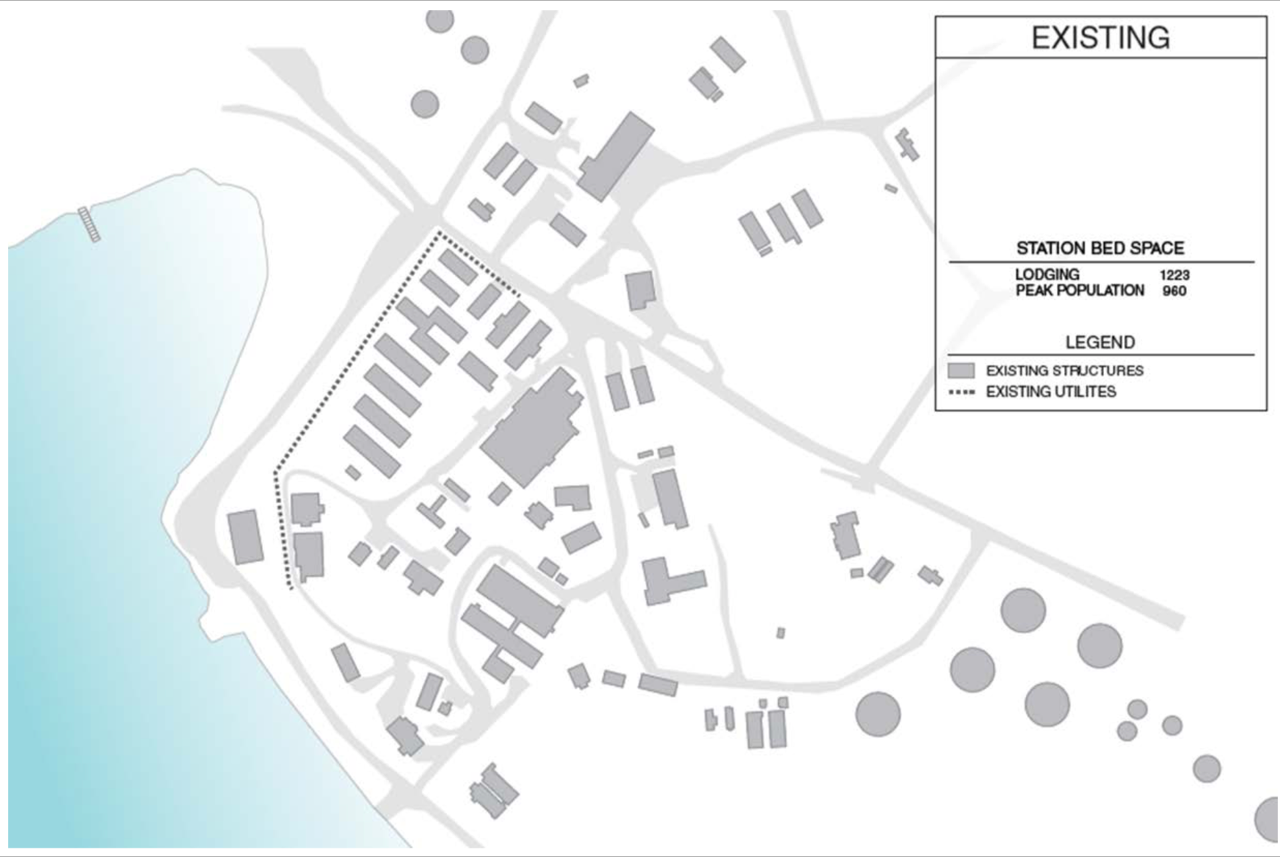 Exisiting building layout at McMurdo Staiton
The AIMS Project recently completed the Preliminary Design Review stage, a major milestone in the development of new facilities and infrastructure for McMurdo Station. Additionally, in late March NSF briefed the project to the MREFC Panel. These are two major milestones in the competition for MREFC funding which is designated for just such a project. The next step is a project briefing to the National Science Board (NSB) in early May.
These milestones were met when an external panel of experts from outside NSF reviewed and evaluated the AIMS project and developed a series of recommendations for the MREFC panel. Their evaluation and recommendations were provided along with a brief from the AIMS Program Officer to the NSF MREFC Panel, who in turn will make recommendations to the NSB Director or her designee for consideration in a future NSF budget year. The MREFC account is an NSF agency-wide capital account created in 1995 with Congressional approval and provides funding to establish major science and engineering infrastructure projects.
The AIMS project addresses some of the major findings identified by a Blue Ribbon Panel review of the U.S. Antarctic Program initiated by NSF and the White House Office of Science and Technology Policy. When complete, AIMS will result in several facilities that will provide more efficient operational support for NSF's objectives in Antarctica, enabling further science to be accomplished.
The scope of the AIMS project includes McMurdo Station's Core Facility and associated utilities. The project is new construction, currently comprised of the following major components: 1) Central Services; 2) Warehousing and Materials Handling; 3) Emergency Operations and Recreation Services; 4) Trades Shop, and finally; 5) Field Science Support. Further support to McMurdo Station will be accomplished with a Vehicle Operations Center and a Lodging Building, which have been designed. An Information, Technology, and Communications (IT&C) Primary Operations Center and the Ross Island Earth Station are still in the design phase.
The core facilities work scope will encompass:
Central Services: The Central Services building will be a two-story facility that consolidates most administrative and station support functions including food preparation, dining, food storage and general warehousing, passenger services, and a multi-purpose lecture space. In addition, Central Services will contain a mission operations center for the station, including communications, fixed wing aircraft service provider, air traffic control, and fire department dispatch. Like all new AIMS buildings, this project will have energy efficient building systems and be enclosed by a highly insulated building envelope.
Warehousing and Materials Handling: Each year, McMurdo Station relies on and receives via a supply vessel, about 400 shipping containers, each containing critical supplies for use throughout the following year. Of those containers, approximately 250 are currently staged in outside storage areas. The Warehousing and Materials Handling component of the project will efficiently and safely catalog, store, and retrieve much of that material.
Emergency Operations and Recreation Services: The new Emergency Services Facilities will be adjacent to one another and to the Recreation Facilities, and will include a full-size gymnasium that doubles as an emergency holding area. To further support that operation, access to the storage and food preparation areas is provided. Also included:

Fire Station: The new station will enable efficient and safer drive through capability for fire trucks and ambulances and will house administrative areas, a training room, specialized storage, and sleeping quarters for on-duty firefighters.
Medical Clinic: A new Medical Clinic will serve the entire station population and will be co-located with the Fire Station. It will include administrative support space, exam rooms, a hyperbaric chamber, dental exam and procedure space, and sick bay rooms for patients requiring isolation.
Recreation, Skills Development, Lounge, and Gymnasium: A recreation block will include multi-purpose rooms whose primary functions will be to facilitate skills development, allow musical instrument and band practice, and encourage physical fitness. A fitness center with a multipurpose room, a weight room, and an exercise room will be available to USAP participants deployed to McMurdo Station.

Trades Shop: The light industrial trades shop provides a shared space for trades such as carpentry, plumbing, welding, etc., that will primarily maintain station facilities, assemble minor scientific equipment, and perform minor fabrication or repair of scientific components.
Field Science Support: A new science support facility will be located near the existing Crary Laboratory and will be physically connected to Central Services. It is co-located with the Trades Shop and Antarctic Terminal Operations, Cargo, and Science Cargo which is responsible for the movement of USAP participants and cargo. Science field gear, field communications gear, field mechanical gear, and other equipment to outfit a grantee headed to the near and deep field will be repaired, maintained, stored, and ultimately issued by this facility.
The Core Facility Projects and the Utilities Project make up the two major construction efforts that comprise the AIMS project. NSF will present the AIMS project to the National Science Board in early May.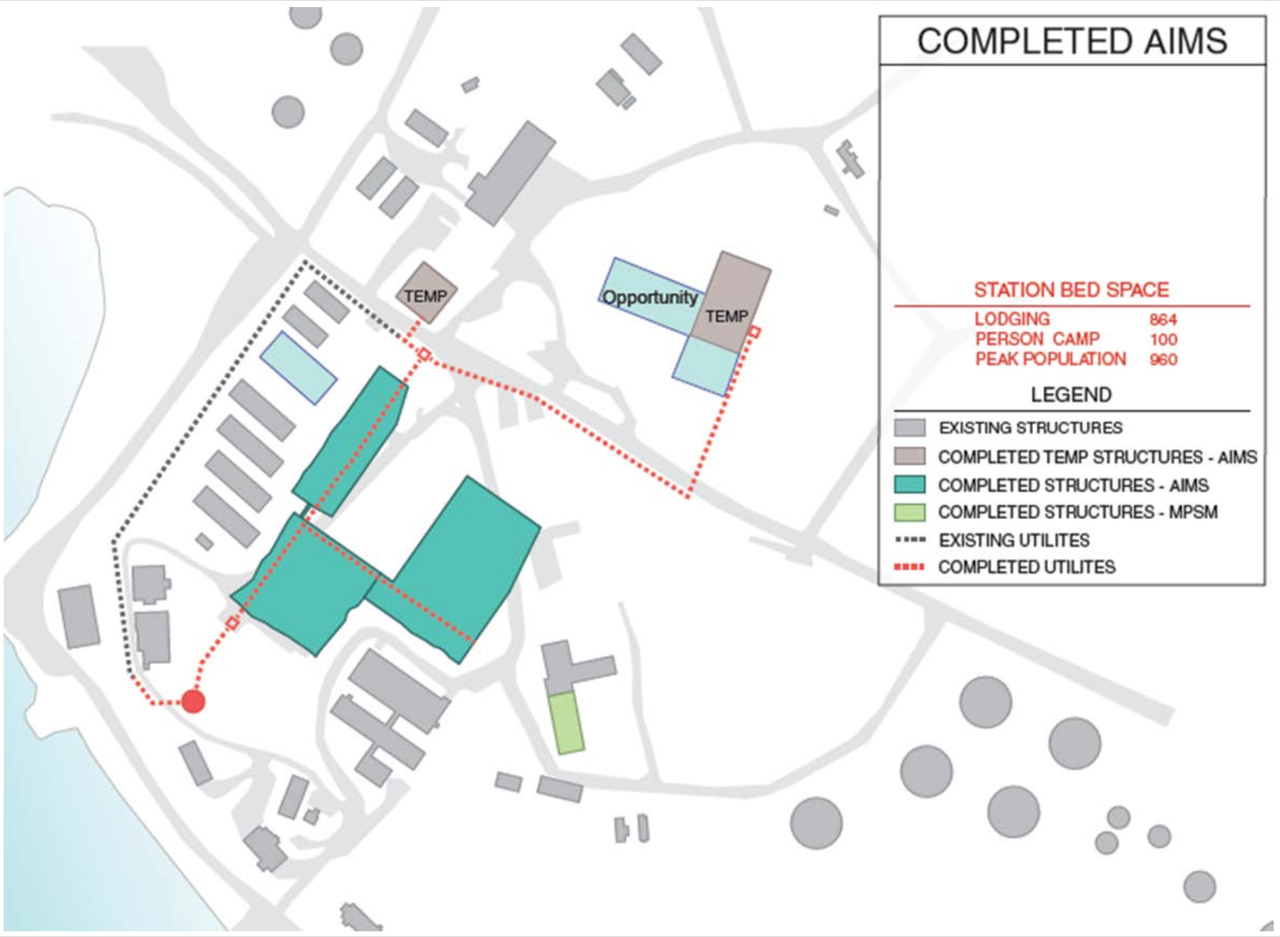 Building layout when AIMS is completed