Information Technology and Communications "Charrette" Sets New Facilities Standards
Comprehensive, Two-Day Planning Session Aims to Consolidate Information Technology Functions
August 16, 2016
This spring, participants in a design charrette—a comprehensive, two-day planning session—focused on an important component of the redesigned McMurdo Station: the Information Technology (IT) and Communications Primary Operations Facility. This building will house the station's primary data center, a back-up emergency operations and communications center, a back-up command-and-control center, as well as field communications and other IT support.

These functions are currently spread out in different locations across the station. By integrating them and locating them in one place, Future USAP aims to increase efficiency and convenience while improving safety and reliability.
Personnel from the architecture –and-engineering design team; the National Science Foundation; NASA; Joint Polar Satellite Systems; Space and National Warfare Systems, which provides weather forecasting services for the NSF-managed U.S. Antarctic Program; the National Oceanic and Atmospheric Administration; and Lockheed Martin Antarctic Support Contract (ASC) all participated in the charrette.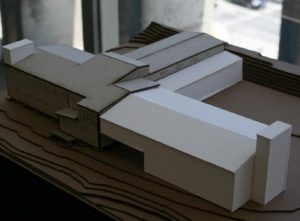 Conceptual Model of Future IT&C Building
The charrette's first day focused on prioritizing elements within the project, from information technology requirements to the power and cable infrastructure to support those needs. For example, each team discussed its needs for the data center and for redundancy, which, in turn, will influence the equipment and space required to support these functions. The new facility will be designed to accommodate all the needs identified during the charrette.
The second day focused on planning for the second floor of the data center as well as miscellaneous specifications for optimizing space, accommodating rooftop antennas, sustainable design and energy efficiency strategies.
Once completed, the new facility will set a standard for both operational and energy efficiency, one that the NSF plans to meet or exceed in its ongoing and emerging development at McMurdo, Palmer and South Pole stations.
This charrette represents just one step of a continuous process to plan, design, and build new facilities drawing on both architectural expertise and a wealth of participants' Antarctic experiences. If you have questions or input, please contact us.