Ross Island Earth Station
Construction of Telecommunications Hub to Occur in 2021-22 Season
July 22, 2021
The National Science Foundation (NSF) is moving forward with plans to complete the construction of the Ross Island Earth Station (RIES) during the 2021-2022 austral summer season. RIES will replace the existing Black Island Earth Station, McMurdo Station's primary telecommunications hub, which has been in continuous operation since the early 1990s.
Antarctic research stations can only communicate outside the continent by satellite, as no subsea cables connect Antarctica to the other six continents. The U.S. Antarctic Program (USAP) has relied heavily on Black Island Earth Station for over 30 years to transmit scientific and operational data from McMurdo to orbiting satellites. Satellites then relay the information to Earth stations in New Zealand and transmit the data to the world via fiber optic cables.
The new RIES will be located closer to McMurdo Station than Black Island, which will make servicing the station more convenient and ultimately reduce the cost of operating and maintaining the structure. RIES will be located on a hill above McMurdo, a 10-minute drive away, while Black Island Earth Station sits more than 20 miles away and can only be accessed by helicopter or over-ice traverse in a tracked vehicle. Technicians will be able to access and service RIES easily throughout the year while reaching Black Island during the austral winter is challenging.
The new station will consist of an antenna, roughly the size of a house, enclosed by a radome to protect it from the weather on the continent. The USAP will continue to use Black Island Earth Station as a backup data transmitter. RIES is scheduled to be completed and operational by January 2022.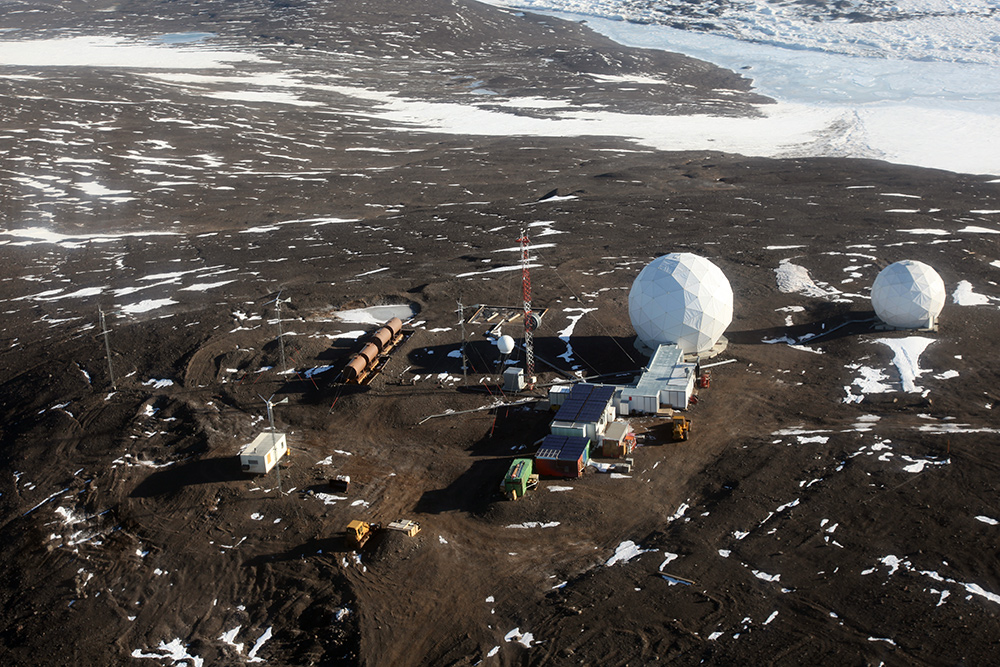 An aerial shot of the Black Island Earth Station